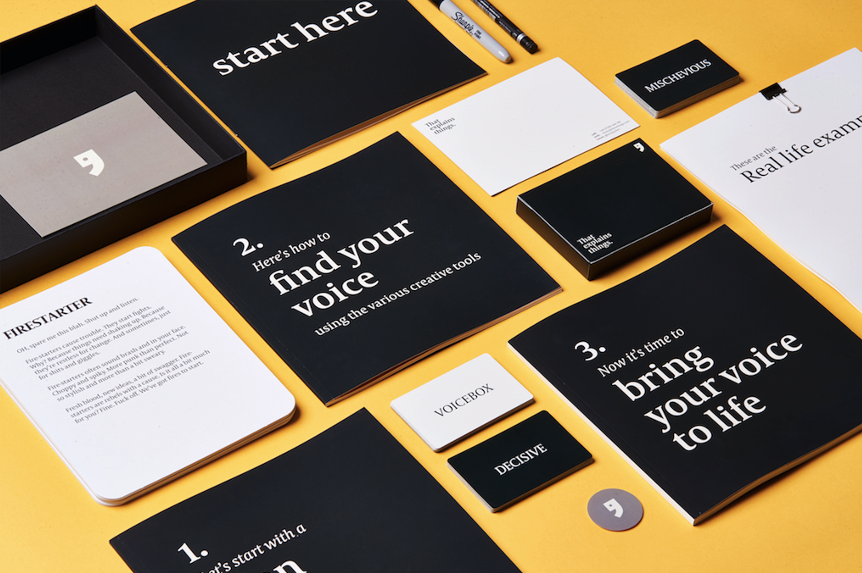 Find your voice. Speak to the world.
Voicebox is a radically simple approach to defining your brand's tone of voice. For start-ups. For teams. For copywriters. For anyone who works with brands and words.
---
Superpowered brands
A brand with a strong voice has a superpower – a way of speaking to the world which amplifies everything they say and do. But finding that voice can be tricky – even for experienced writers or brand folk. The process can often feel haphazard, and leave you with a sense that you haven't quite put your finger on what you're really after, or explored all the options.
Defined by Voicebox
Voicebox changes all of that. It's a complete method for finding, defining and using a brand's tone of voice that's both simple and powerful, clear yet nuanced. It's being used by agencies, writers and brand and marketing teams all over the world to help them get beyond that generic 'friendly' voice to something far more distinctive, interesting and unique.
---
A game-changer. Simple, practical and inspiring to use. Everyone who works with brands should have one to hand at all times.
---
What you get and how it works
A 'quick start' guide, and three handbooks

These take you step-by-step through the process of planning a tone of voice project, using the creative tools for finding a voice, and then bringing that voice to life.

99 tone of voice tarot cards

The cards help you work out which of the Primary Voices are right for the brand you're working with. You can shuffle them, group them, order them – anything you like. Then turn them over, and they'll nudge you in the direction of the right Primary Voices for you. They've been described as 'a facilitator's dream'.

The 11 Primary Voices

These are the heart of Voicebox. You get a set of the 11 Primary voices on thick, high-quality 'placards' (OK, they're just big cards), with a description of each voice written in that voice. They're perfect for putting up on a workshop wall, or passing round in a group discussion.

The Formalizer

This is a super-handy little guide that helps you work out where your brand's voice lies on the formal-to-informal scale. It's super useful if you're a brand or organisation that's traditionally been more formal or conservative – it helps you find a more nuanced voice than just flipping from 'formal' to 'chatty'.

Dozens of real life examples from the world's most distinctive brands

We've gathered the very best – and freshest – examples of brands with great tones of voice, from the UK, Europe and America. Each one comes with notes and analysis pointing out what's going on, and which of the Primary Voices it uses. (Each is one a separate sheet, to make them easy to share and shuffle around – and so we can send you new examples for your pack in the future!)

And tons of creative exercises

There are creative exercises to help you bring to life each of the 11 Primary Voices – including full instructions for how to run them with a group, and how to use what you find out.

And no harm in mentioning one last time those digital tools, specially created so you can run Voicebox sessions virtually.
---
What others think
At last – a practical way to think about tone of voice that's simple yet sophisticated. Use it now.

THANK YOU (yes I'm shouting!) for the genius that is Voicebox. I used it for the first time yesterday with a client and it was phenomenal. It gave me the clearest steer ever in how they do and don't want to sound before I put pen to paper.

The tone of voice tarot cards are a facilitator's dream. We've used them in language workshops, brand workshops and strategy sessions. They've become an essential tool in the way we help clients.

A seriously ace product. Voicebox makes one of the least understood areas of branding as tangible as fuck.

I've used Voicebox on multiple projects now – not only does it make the tone of voice development process easier for everyone, but it helps get to an excellent result faster. Highly recommended.
---
Buy Voicebox
Voicebox: Basic

The complete 'define your tone of voice' method in a box. Voicebox contains everything you need to define, codify, and use your brand's tone of voice.
---
Buy Voicebox Masterclass edition
Voicebox: Masterclass

The complete 'define your tone of voice' method in a box. Voicebox contains everything you need to define, codify, and use your brand's tone of voice. PLUS: Two x 60-minute Voicebox coaching sessions with Nick.