If you've been at a talk I've given, a workshop I've run, a presentation I've given at any time over the last five or six years, the chances are you've seen me show this photograph.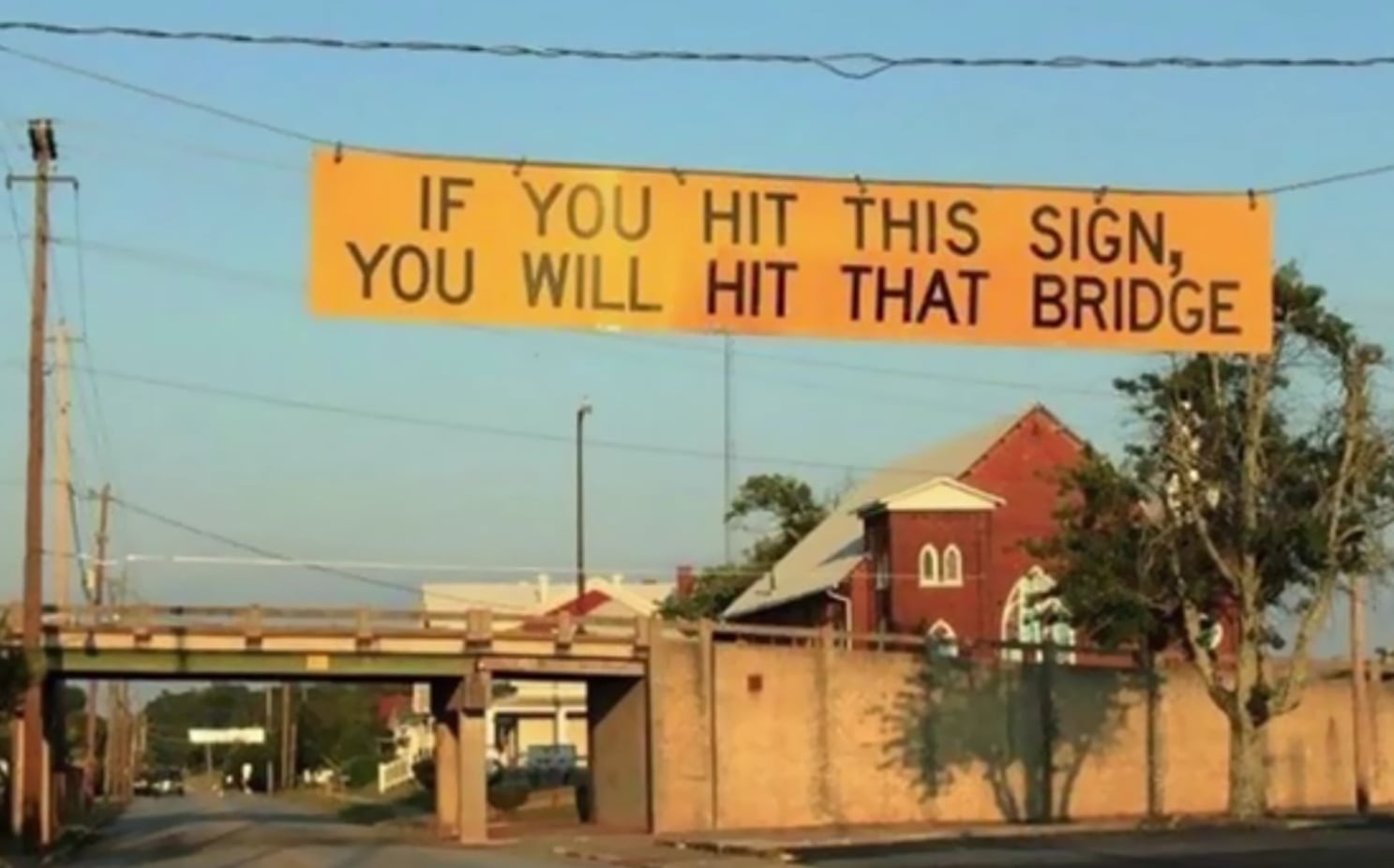 It's a sign that used to hang near a bridge in Atlanta, Georgia, USA. I think it's genius. I'd go far as to say that it's one of the best bits of 'explaining' I've ever seen: it's simple, clear, helpful, memorable, unexpected, unambiguous, funny, and has a really distinctive tone of voice. It's a great bit of 'interactive UX' (even if you don't read it, when you hear that clonk, you're gonna stop) and it's a perfect combination of form and function – it's all the more effective for looking a bit unofficial and home-made).
Over the years, got laughs and props from everyone I've shown it to. I remember a senior lawyer once saying 'if you'd let us write it, we'd have put sign impact occurrence may be indicative of possible future bridge collision event. (He now has a print-out of the sign stuck above his desk.) A couple of people told me that they had seen the sign for real. Someone told me the bridge used to be known locally as 'the guillotine'.)
I tend to use it as a thought experiment: if I'm failing to get to the heart of something I'm writing, I ask 'what would the Bridge Sign version of this look like?'
Now, when I first started showing it, I used to claim that I had taken the photograph In fact, I had a long, involved story about me road-tripping across America. All totally made up. But hey, it was a good yarn and helped make the point clearer. (Interestingly, I don't do this anymore: in these fake news times, I've lost the taste for even the littlest fibs.) The truth is more prosaic: a client sent it to me, saying 'I think you'll like this'. They'd seen it on Reddit.
I've half wondered over the years who did take the original photograph. Then a few months ago, after it got a particularly good reaction at a conference, I decided to try and find out. I wanted to pay fairly for using the image that had served me so well.
It turns out that photograph above – there are a few other shots of the bridge, but none half as good – was taken by a chap called Beau Gentry. So I dropped him an email saying hey, thanks, can I give you money?
I didn't hear back. A few months passed. I forgot all about it.
Then yesterday, he emailed back:
Hello Nick, have you ever responded to an email really late? Me too. I really appreciate you reaching out to me… It would warm my heart if you would make a donation of your choosing to the link below. My friend is dealing with Parkinson's disease and we are doing this charity bike ride. My goal is modest at $250. If you know anyone dealing with Parkinson's I would be honored  to put their name on my bike and ride for them. I'm glad the bridge picture has served you well. It's always made me laugh. The bridge has been rebuilt and the sign is no longer hanging, although it is in our visitor center.
So I've donated. I've also asked Beau if he knows who wrote it. (I'll keep you posted!)
And I thought I'd share this little story in case anyone else feels they owe 'Bridge sign' a debt of gratitude and/or would like to donate.
If you hit this link, you can make that donation. 🙂
⁂
Update(s):
I also posted this on LinkedIn – and lots of people from Georgia replied!

The town is actually Griffin, Georgia.

Beau did his cycle. Readers of this blog helped him smash his sponsorship target by, like, 300%. You're the best.